I am so excited to be linking up to the Picture Book 10 for 10 community. Each year, educators, authors, readers,and anyone else can link up with a post about their 10 must have books for the classroom!  This is my first go, and it was quite a challenge to narrow them down. I decided to go with a theme of books for writing.
I love using books for teaching writing. Over the years, through classes at the South Coast Writing Project, my own research, and becoming a fellow with the UC Merced Writing Project, I have found several that are a "must use" in my classroom.
1. Sequoia by Tony Johnston: Great for figurative language models and from the viewpoint of a tree. Would be great to use to have students write a text from the viewpoint of an animal or plant.
2. Bat Loves the Night by Nicola Davies:   Another great non-fiction book that is told from a different point of view–from a bat's view. It is essentially a narrative, but you learn facts about a bat. Great as a model for a nonfiction piece!
3. Feathers:Not Just for Flying by Melissa Stewart:   Yet another non fiction text that I used as a writing model this year. Lots of facts about feathers. The class loved this book. Melissa Stewart is active on twitter, and has a website with videos for young writers. A must have for all classrooms!
4. The Important Book by Margaret Wise Brown:    Love this, though I admit, upper elementary kids roll their eyes a bit when you first read it. But it is a great book to use for a culminating writing activity. I've had kids copy change it to "What's Important about Electricity", "What's Important about Lexington and Concord", even "What's Important about Mrs. _____" (my child's teacher). Last year, students wrote this style after interviewing a classmate. The easy structure invites students to focus on content and vocabulary.
5. Fortunately by Remy Charlip : Another favorite of mine with a very predictable pattern. I've used as a structure for writing about the plot of a story, as well as discussing the history of the Revolutionary War. I will use this year to have kids write about the history of the mission era.
6.Fireflies by Julie Brinkloe:    I love this for my personal narrative lessons. It is a simple story about a boy catching fireflies. Students can see how we can take an ordinary event and turn into a story. We don't have to write all of our stories about trips to Disneyland or big birthday parties.
7. All the Places to Love by Patricia MacLachlan:  This is a beautiful book, both words and illustrations! I use for discussing setting, using exact vocabulary in descriptions, and I have students choose their own place to love for a writing piece.
8. I Am the Dog, I Am the Cat by Donald Hall:  A student favorite, told from the viewpoints of a cat and dog. This book has so many uses–I've used to teach compare and contrast and point of view, as well as introducing opinion writing. Both animals think they make the best pet, and it's a hoot to read aloud!
9. America, I Know You by Bill Martin, Jr:  Now, no offense to the fabulous author, BUT I think the writing my students do by using this predictable structure is incredible!  (I actually end up liking it better than the actual text!)  I have used this to have my writers copy change this with their own images of what makes America so wonderful. Since I teach fourth grade, my writers make a version called, "California, I Know You". Again, since the structure is set for my students (except I don't make them rhyme), they can focus on vivid vocabulary and word choice. Parents love this writing!   (I could only find used copies on amazon available, but they were less than $5)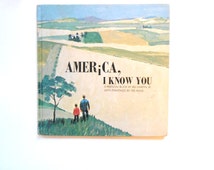 10. Animals Nobody Loves by Seymour Simon:    This is a great book! I actually have not used for writing…yet. My students read selections from the text last year, and I wrote text dependent questions to go along with it, so they could practice using text evidence when answering reading questions. However, I planned to have students write short pieces about other animals we don't find particularly lovely. I've even seen ideas online to have students write poetry about the animals from this text. Kids eat this book up! The pictures are close ups and fantastic!  A must have in your library!
And there you go: 10 books I recommend for your writing library! Now, off to read others' picks and load up my Amazon cart….